Nathan Cleverly's official fight record:
32 Fights – 29 Wins – 15 Knockouts
Notable victories:
May 17th, 2014: Cleverly returned to the ring for the first time since losing his world title in 2013. It was a period of transition for the Welshman who had moved up to cruiserweight under a new promotional banner and with a new trainer. Cleverly stopped Shawn Corbin in two rounds at the Motorpoint Arena in Cardiff, Wales.
February 25th, 2012: Fighting in Wales for the first time in four years, Cleverly returned home in front of a sold out crowd to dominate every second of a Unanimous Decision win against ranked American contender Tommy Karpency at the Motorpoint Arena in Cardiff, Wales.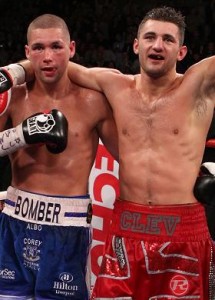 October 15th, 2011: In Cleverly's first WBO world title defence, he travelled to the hometown of his fierce rival Tony Bellew and handed the Scouser his first career defeat in a Fight of the Year contender. Cleverly scored a Majority Decision win at the Echo Arena in Liverpool, England.
May 21st, 2011: In Cleverly's first world title fight, he routinely routed Polish late replacement Aleksy Kuziemski in four rounds to get his WBO light-heavyweight campaign underway at the O2 Arena in London, England.
September 9th, 2010: In Cleverly's twentieth contest, he ground down unbeaten German Karo Murat and forced a tenth round stoppage to earn the right to fight for the WBO world title. They fought at the LG Arena in Birmingham, England.
February 13th, 2010: In his 19th fight, Cleverly stopped Italy's experienced Antonio Brancalion in five rounds to collect the European light-heavyweight belt to his career collection of titles at Wembley Arena in London, England.
July 18th, 2009: In his 17th contest, Cleverly knocked out the unbeaten English champion Danny McIntosh in seven rounds to collect the prestigious British light-heavyweight title at the historic York Hall in London, England.
October 10th, 2008: In his thirteenth bout, Cleverly won his first career title. The Welshman took a Unanimous Decision against domestic veteran Tony Oakey to collect the Commonwealth light-heavyweight title at the Everton Sports Centre in Liverpool, England.
April 19th, 2008: In his tenth fight, Cleverly made his American debut on the undercard of Joe Calzaghe v Bernard Hopkins and he won every session of the eight round fight against Antonio Baker at Planet Hollywood in Las Vegas, USA.
October 6th, 2006: In his seventh contest, Cleverly appeared in the away corner against unbeaten prospect, Tony Quigley. The Welsh super-middleweight stopped his heavily hyped opponent out with a body shot in the fifth round at the MEN Arena in Manchester, England.
December 4th, 2005: In his third professional fight, Cleverly scored his first career knockout, stopping light-middleweight Lance Hall in the third round at the Oakengates Theatre in Telford, England.
July 23rd, 2005: Cleverly made his debut at welterweight against the notoriously tough journeyman, Ernie Smith. Cleverly won the four round contest on points at the Meadowbank Stadium in Edinburgh, Scotland.